Precision Garage Door of Cincinnati
New Garage Doors, Replacement & Installation
Serving The Entire Cincinnati Metro Area and Northern KY
1(888)526-4587





WITH 1,109 REVIEWS
CLICK
To view local phone numbers
(513) 729-7644
(513) 729-7644
---
Hamilton County





Ancor

Arlington Heights

Avoca Park

Bevis

Camp Dennison

Cherry Grove

Crestwood Acres

Delhi Hills

Dent

Dillonvale

Dry Ridge

Elizabethtown

Elmwood Place

Fairfax

Finneytown

Fruit Hill

Glendale

Golf Manor

Grandview

Greenfield Village

Greenhills

Highpoint

Hooven

Ivorydale

Kenwood

LaFeuille Terrace

Lincoln Heights

Lockland

Mack

Maineville

Miami Heights

Miamitown

Mount Saint Joseph

Mount Washington

New Baltimore

New Haven

Northbrook

Plainville

Pleasant Plain

Pleasant Run

Pleasant Run Farm

Rossmoyne

Saint Bernard

Sedamsville

Shademoore

Sherwood

Sherwood Village

Sixteen Mile Stand

Skyline Acres

South Clippinger

Spring Meadows

Whitetree
(513) 327-2027
(513) 327-2027
---
Clermont County





Blanchester

Chilo

Day Heights

Edenton

Laurel

Lindale

Miamiville

Mt Carmel

Mt Repose

Mulberry

Neville

Newtonsville

Owensville

Summerside

Utopia

Willowville
(937) 709-0007
(937) 709-0007
---
Brown County





Aberdeen

Decatur

Feesburg

Higginsport

Hillsboro

Lynchburg

Mount Orab

Ripley

Russellville

Winchester
(859) 359-2690
(859) 359-2690
---
Northern Kentucky Area





Aspen Grove

Atwood

Augusta

Beaverlick

Belleview

Berry

Big Bone

Bromley

Brooksville

Bullittsville

Butler

Camp Springs

Claryville

Constance

Corinth

Crescent Park

Crescent Springs

Crestview

Crestview Hills

Crittenden

Dayton

De Mossville

Devon

Elsmere

Fiskburg

Flagg Spring

Forest Hills

Francisville

Germantown

Glencoe

Grants Lick

Gubser Mill

Idlewild

Jonesville

Kenton Vale

Limaburg

Mason

Melbourne

Morning View

Nicholson

Oakbrook

Petersburg

Piner

Richwood

Ryland Heights

Silver Grove

Southgate

Taylorsport

Visalia

Warsaw

Waterloo

White Villa

Wilder
(812) 496-4822
(812) 496-4822
---
Southeast Indiana Area





Bennington

Bonnell

Chesterville

Cold Springs

Dillsboro

Dover

Farmers Retreat

Hardinsburg

Hidden Valley

Homestead

Kyle

Lawrenceville

Logan

Manchester

Milan

Mount Sinai

New Alsace

Saint Leon

Sparta

Weisburg

Wilmington

Wrights Corner

Yorkville
Precision Garage Door of Cincinnati
New Garage Doors, Replacement & Installation
Serving The Entire Cincinnati Metro Area and Northern KY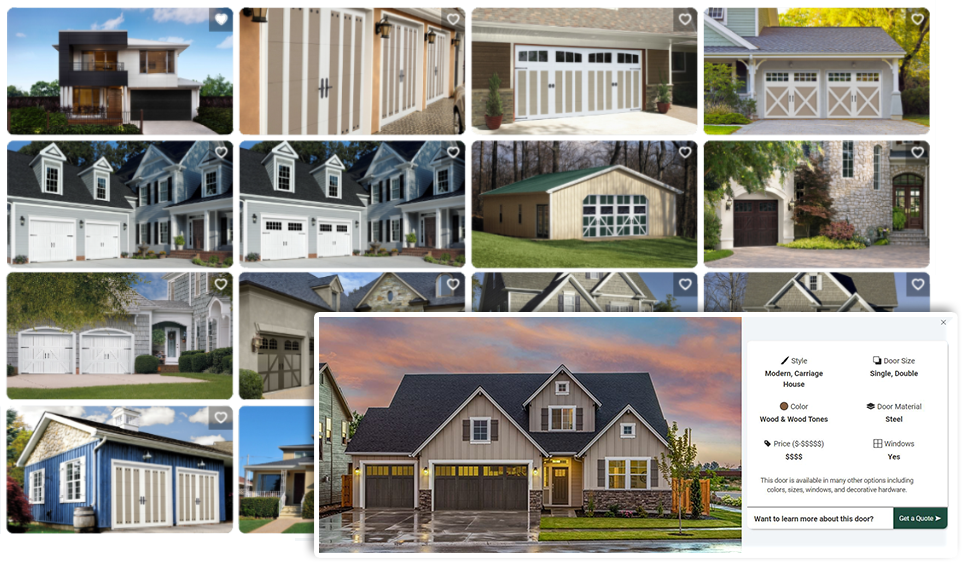 To help you find the right door for your home, we provide free in-person Garage Door consultations. During your appointment, our Garage Door Specialist will ask questions to understand your current needs and share different styles and materials we have available. We will also have samples to allow you to see and feel the differences when deciding which door type and style fits your needs best. Click the button below to contact us today for a free no-obligation consultation!
---
3 Things You Need To Know Before Buying a Garage Door
1. Which Is The Best Garage Door?
The best garage door is the one that fits your needs. We sell and professionally install Amarr Garage Doors. This manufacturer offers a very good value for our customers. The warranty is good and most of the time we/you don't need to use it, which represents a win/win for us and our customers. We can get almost any garage door manufactured today, so if you have a special request, please let us know.
Windows, Color & Decorative Options
Design your perfect garage door using the Precision Garage Door Designer. You may also submit your design and get a free price quote. Click here to start designing.
Your ability to customize your garage door to your home's decor will be affected by the type of door you choose. Garage doors are commonly found in vinyl, steel, wood, carriage house and wood composite.
---
Steel Garage Doors
Steel is the most popular material used for garage doors today because of its durability. Steel will look great forever and is virtually maintenance-free. It also has the advantage of being the least expensive garage door you can buy. If you're looking to add even more curb appeal, a Steel Door in Carriage Style like the one pictured, might be just what you're looking for.
---
PVC Overlay Garage Doors
PVC is a plastic material that offers the same workability as wood, but is lighter and is completely maintenance free. PVC Overlay doors are scratch resilient and will not dent, rust or crack. They are professionally insulated and work quietly. The wood grain is properly registered so the door has the appearance of wood. A PVC Overlay door is available in many colors and never needs repainting. While the initial cost of a PVC door may be greater than doors made of other materials, the long-term cost is less. On occasion, PVC doors are not always readily available. They may need to be ordered from the factory.
---
Carriage House Doors
Carriage house is a style of door, not a material, but you'll certainly want to consider it when purchasing a new door.
Traditionally, carriage style doors are made out of wood and remind us of the days when garage doors were pulled open rather than lifted overhead.
Upscale wood doors are available in nearly limitless variety. Precision will be happy to provide a free estimate and work with your architect on finding exactly the right style.
Carriage house doors now also come in steel and are available to homeowners of every budget. In fact, a carriage style door in steel might be comparable in price to a similar door in raised panel, or just slightly more.
See the available styles using our door designer or call for a free price quote.
---
Full View Glass Garage Doors
Glass garage doors, actually made from aluminum, radically beautify a home's exterior. Sometimes referred to as French Doors or Frenchporte, these doors operate in the exact same way as a standard garage door. The frosted glass is translucent and is made from a polycarbonate that is virtually unbreakable. In contrast to this garage door's frail beauty they are very durable and maintenance free. As expected, the traffic-stopping beauty and the technology behind its durability comes with a higher price tag.
---
Vinyl Backed Insulated Garage Doors
Vinyl backed insulated garage doors are a more affordable option for a garage door. They offer the same insulation without the cost of a steel backed garage door. The vinyl backed insulation helps with noise dampening over a uninsulated door as well. These doors come with a lifetime warranty and are available in a variety of styles and colors.
---
Custom Garage Doors
In addition to the above styles, you may also consider doors that are unique and offer options to match your home's design. Houses were made in different periods and many styles. In some cases the shape and size of the garage are unique. No problem.
We can get a garage door customized for your home's specifications. These doors can reflect old world styles, and are available with decorative hand-forged hardware and architectural glass options. Precision will work with homeowners, architects and designers to help match your Garage Door to your home's unique style.
---
The energy efficiency of your new garage door will depend on how well it's insulated. This is most often stated in R-Value. The higher the R-Value the more energy efficient the garage door.
There are 2 types of insulation used in garage doors: polystyrene and polyurethane.
Polystyrene is similar to the materials used in a foam cooler. It is less expensive than polyurethane and will provide a high R-value. Polyurethane is sprayed into a door with interior and exterior steel and provides a superior quality and R-Value. It will typically be a little more expensive than polystyrene.
For example, a wood garage door will have an R-Value around 8, while insulated steel doors can achieve R-Values between 13 and 19.
---
3. Choose The Best Company To Install Your New Door
Our door installers are professional and courteous at all times. They arrive at your home uniformed and in clearly marked vehicles.
We carry all the necessary insurance and will provide proof upon request.
Every door we sell comes with a full warranty. Your garage door will be installed by a local company, and it will be backed by a National Franchise.
---
Same Day Service
All Calls Answered By A Live Operator 24/7
Free Estimates on All New Garage Doors
Evenings & Weekends Available At No Extra Charge
All Work Guaranteed with our Limited Lifetime Warranty
All Major Credit Cards Accepted
Financing Options Available
Professionally Trained Technicians
We Repair & Service All Major Brands
---
Precision Overhead Garage Door Service of Cincinnati
Office:

(513) 275-6825
98 Caldwell Dr
Cincinnati
,
OH
45216