1(888) 526-4587
COVID-19 - We're Open
We Are An Essential Business. Click Here To Learn How We Are Keeping Our Customers & Employees Safe.





WITH 797 REVIEWS
Click
to view local phone numbers
(513) 729-7644
(513) 729-7644
---
Hamilton County





Ancor

Arlington Heights

Avoca Park

Bevis

Camp Dennison

Cherry Grove

Crestwood Acres

Delhi Hills

Dent

Dillonvale

Dry Ridge

Elizabethtown

Elmwood Place

Fairfax

Finneytown

Fruit Hill

Glendale

Golf Manor

Grandview

Greenfield Village

Greenhills

Highpoint

Hooven

Ivorydale

Kenwood

LaFeuille Terrace

Lincoln Heights

Lockland

Mack

Maineville

Miami Heights

Miamitown

Mount Saint Joseph

Mount Washington

New Baltimore

New Haven

Northbrook

Plainville

Pleasant Plain

Pleasant Run

Pleasant Run Farm

Rossmoyne

Saint Bernard

Sedamsville

Shademoore

Sherwood

Sherwood Village

Sixteen Mile Stand

Skyline Acres

South Clippinger

Spring Meadows

Whitetree
(513) 327-2027
(513) 327-2027
---
Clermont County





Blanchester

Chilo

Day Heights

Edenton

Felicity

Laurel

Lindale

Miamiville

Mt Carmel

Mt Repose

Mulberry

Neville

Newtonsville

Owensville

Summerside

Utopia

Willowville
(937) 709-0007
(937) 709-0007
---
Brown County





Aberdeen

Decatur

Feesburg

Higginsport

Hillsboro

Lynchburg

Mount Orab

Ripley

Russellville

Winchester
(859) 359-2690
(859) 359-2690
---
Northern Kentucky Area





Aspen Grove

Atwood

Augusta

Beaverlick

Belleview

Berry

Big Bone

Bromley

Brooksville

Bullittsville

Butler

Camp Springs

Claryville

Constance

Corinth

Crescent Park

Crescent Springs

Crestview

Crestview Hills

Crittenden

Dayton

De Mossville

Devon

Elsmere

Fiskburg

Flagg Spring

Forest Hills

Francisville

Germantown

Glencoe

Grants Lick

Gubser Mill

Idlewild

Jonesville

Kenton Vale

Limaburg

Ludlow

Mason

Melbourne

Morning View

Nicholson

Oakbrook

Petersburg

Piner

Richwood

Ryland Heights

Silver Grove

Southgate

Taylorsport

Visalia

Warsaw

Waterloo

White Villa

Wilder
(812) 496-4822
(812) 496-4822
---
Southeast Indiana Area





Bennington

Bonnell

Chesterville

Cold Springs

Dillsboro

Dover

Farmers Retreat

Hardinsburg

Hidden Valley

Homestead

Kyle

Lawrenceville

Logan

Manchester

Milan

Moores Hill

Mount Sinai

New Alsace

Saint Leon

Sparta

Weisburg

Wilmington

Wrights Corner

Yorkville
Read what people are saying
about Precision Garage Door
Precision Garage Door of Cincinnati
has received
3
reviews, averaging
1.00
Stars:










Date: 03/31/2021
Broken Garage Door Spring Repair
Loveland, OH
Review:
Had used this company three other times over the years and on this job we were WAY overcharged. The service rep was almost an hour late which bled into my work day and unfortunately I was unable to review with him the system he was installing as I could not get away from calls. I arranged my schedule to his promised time of arrival but was unable to move things when he showed up late. In review of the invoice we paid WAY more then other providers. It will be the last time I use them.
- Sean Garry
A Response from: Jake Huntress
We're sorry to hear you were disappointed with our team, Sean. Customer satisfaction is our top priority at Precision and we always strive to provide prompt, reliable service for our customers. We understand your poor experience started with our technician running behind schedule but having called Precision before, you know this is not normal behavior for our team. We tried our best to make up for the prior appointment running long by calling twice with an ETA before your appointment window began, but we understand this is still extremely frustrating when it impacts your workday. We apologize on behalf of our entire team for this. As for the cost, we know you can find other garage door repair companies that offer lower prices. We can't help but notice that often with lower prices comes lower quality work and garage door parts. When you call Precision, you know a trained professional will arrive ready to fix your door the right way the first time. We use only the highest quality garage door parts and offer an industry-leading warranty—something lower-end companies cannot compete with. We understand your technician did provide multiple repair options at different price points and you chose a more expensive option to help extend the lifetime of your garage. While we understand it can be frustrating when the diagnosis to make your door safe and reliable is more involved than you may have hoped, we always make a point to offer different options to best fit your budget. If you have any questions about the services provided or would like to further discuss additional concerns, please contact our office.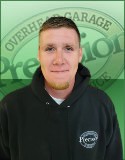 Service Provided:
Broken Garage Door Spring Repair
---
Product:
Garage Door Opener
---
Lead Technician :
David Allen





Date: 12/31/2019
Garage Door Opener Install
Highland Heights, KY
Review:
They just took my money, promising me to send the INVOICE, but they just sent by email the SAFETY CHECK LIST. The technician ask me my credit card number. I paid, but they never sent the work order. Now don't know what I paid for or what they exactly did. TERRIBLE EXPERIENCE I SPENT MY LAST DAY OF THE YEAR TRYING TO FIND SOMEBODY ABLE TO TELL ME WHAT DID I PAY FOR :(:(:(:(:
- Clara Miranda
A Response from: Precision Cincinnati Team
Clara, Now that we have spoken on the phone I want to again apologize that your emailed receipt did not come in a timely manner, although I am happy we were able to service your tenant on New Year's eve. Now that the receipt has been sent, is there anything else we can do to help you out?
Comment from: Clara Miranda
I appreciated your phone call and your clarification. The work was done in time and the technician was very communicative. Then I realized that my tenants received the invoice and for some technical reasons I did not receive my copy. I recomendó your company for fast a quality service.
Service Provided:
Garage Door Opener Install
---
Product:
Springs
---





Date: 10/08/2013
Broken Garage Door Spring Repair
Loveland, OH
Review:
Andy was prompt and courteous!
- Rod G
Service Provided:
Broken Garage Door Spring Repair
---
Precision Overhead Garage Door Service of Cincinnati
Office:

(513) 275-6825
98 Caldwell Dr
Cincinnati
,
OH
45216