Precision Garage Door Openers of Cincinnati
Serving The Entire Cincinnati Metro Area and Northern KY
1(888)526-4587
Click Here To Book Online Now





WITH 1,185 REVIEWS
CLICK
To view local phone numbers
(513) 729-7644
(513) 729-7644
---
Hamilton County





Ancor

Arlington Heights

Avoca Park

Bevis

Camp Dennison

Cherry Grove

Crestwood Acres

Delhi Hills

Dent

Dillonvale

Elizabethtown

Elmwood Place

Fairfax

Finneytown

Fruit Hill

Glendale

Golf Manor

Grandview

Greenfield Village

Greenhills

Highpoint

Hooven

Ivorydale

Kenwood

LaFeuille Terrace

Lincoln Heights

Lockland

Mack

Maineville

Miami Heights

Miamitown

Mount Saint Joseph

Mount Washington

New Baltimore

New Haven

Northbrook

Plainville

Pleasant Plain

Pleasant Run

Pleasant Run Farm

Rossmoyne

Saint Bernard

Sedamsville

Shademoore

Sherwood

Sherwood Village

Sixteen Mile Stand

Skyline Acres

South Clippinger

Spring Meadows

Whitetree
(513) 327-2027
(513) 327-2027
---
Clermont County





Blanchester

Chilo

Day Heights

Edenton

Laurel

Lindale

Miamiville

Mt Carmel

Mt Repose

Mulberry

Neville

Newtonsville

Owensville

Summerside

Utopia

Willowville
(937) 709-0007
(937) 709-0007
---
Brown County





Aberdeen

Decatur

Feesburg

Higginsport

Hillsboro

Lynchburg

Mount Orab

Ripley

Russellville

Winchester
(859) 359-2690
(859) 359-2690
---
Northern Kentucky Area





Aspen Grove

Atwood

Augusta

Beaverlick

Belleview

Berry

Big Bone

Bromley

Brooksville

Bullittsville

Camp Springs

Claryville

Constance

Corinth

Crescent Park

Crescent Springs

Crestview

Crestview Hills

Crittenden

Dayton

De Mossville

Devon

Elsmere

Fiskburg

Flagg Spring

Forest Hills

Francisville

Germantown

Glencoe

Grants Lick

Gubser Mill

Idlewild

Jonesville

Kenton Vale

Limaburg

Mason

Melbourne

Morning View

Nicholson

Oakbrook

Petersburg

Piner

Richwood

Ryland Heights

Silver Grove

Southgate

Taylorsport

Visalia

Warsaw

Waterloo

White Villa
(812) 496-4822
(812) 496-4822
---
Southeast Indiana Area





Bennington

Bonnell

Chesterville

Cold Springs

Dillsboro

Dover

Farmers Retreat

Hardinsburg

Hidden Valley

Homestead

Kyle

Lawrenceville

Logan

Manchester

Milan

Mount Sinai

New Alsace

Saint Leon

Sparta

Weisburg

Wilmington

Wrights Corner

Yorkville
Precision Garage Door Openers of Cincinnati
Serving The Entire Cincinnati Metro Area and Northern KY
We install and repair most garage door opener makes and models! If you need an opener installed or a garage door opener repaired in the Cincinnati area, give Precision a call today. Our professionally trained technicians are happy to help you choose the perfect model for your needs that also fits within your budget.
Please read on to learn about the styles and convenient features available now on some of the best garage door openers you can buy. Whether you need smart features, energy-saving openers, or battery backup options, Precision Garage Door of Cincinnati has an opener that will suit your needs.
Which Type of Garage Door Opener Is Best for You?
There Are 4 Main Types of Openers
Chain Driven Openers
Chain drives are typically the most commonly used and are a very reliable type of opener. This drive runs the garage door on its track by using a metal chain. Chain drives are slightly cheaper than belt drives.
However, chain drive openers tend to be noisy, so if your garage is located below or adjacent to the main rooms in your home, you don't want this opener. We typically don't recommend these types of openers because the small savings aren't worth it. LiftMaster® also does not warranty the chain for life like it does the belt on the belt drives and the motor is much noisier.
Screw Driven Openers
Screw drive openers use a lifting device that runs on a threaded steel rod, rather than a chain or a rubber belt. These openers tend to only work well in locations where the weather and temperature is constant throughout the year. In areas with a wide range of temperature or weather patterns throughout the year, a screw drive opener is not recommended.
They also are the slowest moving and noisiest of all three openers, but are the least expensive. If you didn't like how noisy or slow your current opener was, you won't enjoy having a screw driven opener in your garage. Check out our video showing you the differences between openers below.
Belt Driven Openers
Belt drives are regarded in the garage door industry as the best type of opener. Not only are belt drives as reliable as chain drives, they are also virtually silent. This drive runs on a steel-reinforced belt and typically costs a few dollars more than chain & screw drive openers.
If your garage is attached to your home and has surrounding bedrooms, you'll never be bothered by the noise of your garage door if you get a belt driven opener installed. Many customers end up extremely satisfied with their purchase of a belt drive opener, and can't ever imagine going back to the noise of a chain opener.
Jackshaft Openers
Instead of the opener mounted in the center of your garage ceiling, the jackshaft is mounted on the wall next to your garage door and attached to the torsion spring above the door. When would you want a jackshaft? When you have high ceilings in your garage or just want to free up some ceiling space. The cost is slightly higher than a ceiling mounted opener.
Proper Garage Door Opener Installation
What Is The Best Garage Door Opener?
Watch this video and you'll get to listen and learn which is the right type of opener for you.
Proper Garage Door Opener Installation
Watch this video and ensure your garage door opener is installed properly.
Recommended Garage Door Openers For New Installation
87504-267 - Secure View DC LED Battery Backup Belt Drive Wi-Fi with Integrated Camera
LiftMaster's most advanced garage door opener ever.
Features:
Get alerts & control your opener from anywhere with built-in Wi-Fi & myQ technology
Access your garage even when the power is out with Battery Backup
360º LED lighting increases visibility in your garage
Integrated camera manually adjusts 360º allowing you to see the entire garage
HD quality video begins recording when motion is detected
Mic allows for 2-way audio communication
Features belt drive system and DC motor for whisper-quiet operation
84501 - DC LED Belt Drive Wi-Fi Garage Door Opener
Belt Drive System + DC Motor = Ultra Silent Garage Door Opener
Features:
Get alerts & control your opener from anywhere with built-in Wi-Fi & myQ technology
Dual LED lighting increases visibility in your garage
Features belt drive system and DC motor for whisper-quiet operation.
Security+ 2.0® safeguards garage access by sending a new code with every click of the remote
8160W - DC Chain Drive Wi-Fi Garage Door Opener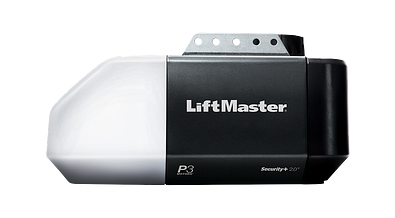 Features:
Built-in Wi-Fi® allows for smartphone control with the myQ® app.
DC motor provides smooth and quiet operation.
Industrial-strength chain drive.
Works with Amazon Key: Enables convenient and secure In-Garage Delivery.
8500 Liftmaster Jackshaft Opener
Ultra-quiet, space-saving, wall-mounted design. Specially designed for garages and unique applications that don't allow for a traditional garage door opener, such as garages with very low, cathedral or obstructed ceilings.
Features:
Ultra-quiet 24V DC motor performance

Optional EverCharge™ battery backup system opens door even when the power goes out

Mounts on the left or right side of door, saving tons of ceiling space.

Easily program additional remotes, keypads and/or keyless entry

Auto-force technology monitors & adjusts forces to temperature fluctuations, floor height, and door track movement
Same Day Service
All Calls Answered By A Live Operator 24/7
Free Estimates on All New Garage Doors
Evenings & Weekends Available At No Extra Charge
All Work Guaranteed with our Limited Lifetime Warranty
All Major Credit Cards Accepted
Financing Options Available
Professionally Trained Technicians
We Repair & Service All Major Brands
Precision Overhead Garage Door Service of Cincinnati
Office:

(513) 275-6825
98 Caldwell Dr
Cincinnati
,
OH
45216